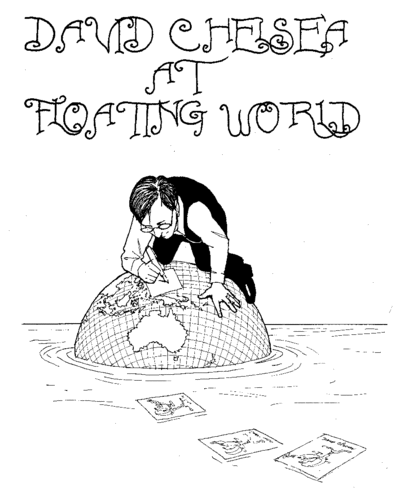 THURSDAY, JUNE 5, 2008
6-10 PM
FLOATING WORLD COMICS
David Chelsea will appear at Floating World Comics, in Portland's historic Chinatown district, celebrating the release of his book 24×2, published by Top Shelf Productions. 24×2 collects two 24-page stories, each created over the course of a 24-hour period!
The party will also celebrate the opening of a gallery show at Floating World, featuring the art of legendary alternative cartoonists Peter Bagge, J.R. Williams, and Mats!?. The show will run through June 30th.
David Chelsea is a Portland-based cartoonist and illustrator. His graphic novels David Chelsea in Love (1992) and Welcome to the Zone (1995) have earned him a cult following. His hybrid graphic novel / textbook Perspective! For Comic Book Artists (1997) has helped cartoonists create realistic worlds for over a decade. His illustrations for the "Modern Love" column greet readers of the New York Times every week.
But perhaps his most unique achievement is his history with the 24-hour comic book — a complete 24-page comic book story, created from start to finish in 24 hours. Since his first 24-hour comic experience in 2004, Chelsea has returned again and again to this comic-book crucible, completing his stunning TENTH 24-hour comic on April 5, 2008.
Now, Top Shelf Productions presents the cream of Chelsea's crop: two hand-picked 24-hour comics from the reigning champion of the form.
WHO: David Chelsea, Peter Bagge, J.R. Williams, Mats!?, and the public!
WHAT: Gallery show, opening reception, book release party for David Chelsea's 24×2
WHEN: Thursday, June 5, 6-10PM
WHERE: Floating World Comics
20 NW 5th Ave #101
Portland, OR 97209
(503) 241-0227